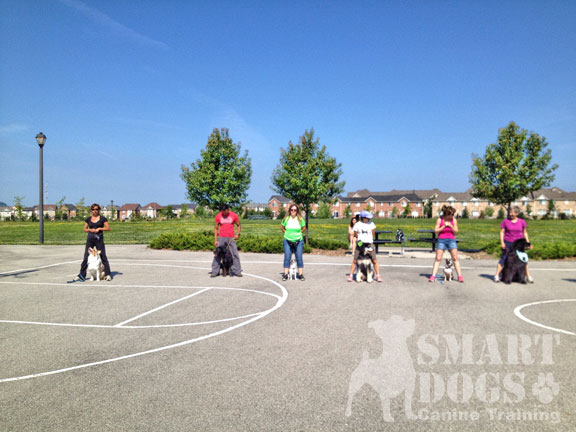 We offer group lessons as an opportunity to teach your dog how to work around other dogs, people and distractions. Our classes are kept small for optimum individual attention and success - limited spaces available. We are the only facility in the area that offers video homework, along with comprehensive written instruction to assist our students in achieving success with their dogs.
Our group classes are fun, informative, educational and focus on success.
Contact us if you are interested in joining: dogtraining101@hotmail.com

Prices can change at any time without notice.


Smart Puppy Essential Skillz Seminar 0.5 (coming soon!)
This is a great starting point for all puppies and sets them up to succeed.
We also go over important items such as behaviour, crate training, house training, nipping, jumping, socializing and all typical puppy issues. You will get access to our NEW ONLINE Puppy Essentials Course with a ton of awesome information and assignments to complete with your puppy.
We will introduce you and your puppy to basic obedience training in a fun, positive manner - sit, place, come, name.

10 weeks - 16 weeks - puppies MUST have 2nd set of shots.
Equipment Required: 6 foot leash, flat buckle collar, martingale or harness, lots of treats.
Prerequisite: None
$140.00 + HST - 90 minute seminar and one hour obedience session (on separate days)
Suggestion next step: Smart Dogs Basics


Smart Dog Basics Skillz 1.0
Helps teach you how to gain control of your canine companion under distraction with all of the basics of obedience - come, stay, sit, down, stand, heel, leave it, off. We work on engagement with your dog, focus and attention, and we offer the only video homework options in our area! We also save time for question and answer including topics like house training, crate training and other "typical doggy issues". We want our students to succeed.
This is A MUST for all dogs, the most important class that you need to take! If you want a dog who listens to you, responds under distraction, and is a joy to be around, this is the class you want. This is a one size fits all class, all ages, all breeds and all sizes welcome!

16 weeks and up - puppies must have their vaccinations completed.
Homework is required to be completed.
Equipment required: 6 foot leash, training collar and treats.
Prerequisite: None
$235.00 + HST - 7 x one hour sessions.
The test is optional but MUST be passed in order to receive a certificate and move on to Bootcamp Class.


Smart Dogs UpGrade Skillz 2.0
You want more for your dog? You want to build an even stronger relationship? You want your dog to have some mad skillz???

This is the class!!! This is a fun, fast paced class that runs twice a month and is formatted to work on perfecting obedience, focus, calm and keeping the dogs training moving forward over the winter months.
Skills worked on:
Extended sits, downs and stays with challenges
Place with challenges
New technical obedience skills - around, centre, focused heeling, pylon course navigation
Distance skills (recalls, downs, stays)
How to self control


Equipment required: 6 foot leash, training collar and treats.
Prerequisite: Any one of our training classes
$245.00 + HST - 8 x one hour sessions (approx. twice a month).




Smart Dogs Bootcamp Skillz 3.0


This class runs rain or shine, snow or humidity, outdoors, in a real life environment. Its the perfect class for those who want to gain more control and perfect your dogs obedience under real life distractions! As a follow up to our Smart Dogs Basic Class, this course will prepare you and your dog for situations that may come up in your day to day routine.
Learn to maintain control, leadership and obedience in real life situations. We will be emphasizing control on leash, in stays and distance recall. under heavy distraction of the real world. You will visit different places in town each week, every class involves different types of distraction. This class can be taken multiple times, and greatly benefits all dogs, no matter age or breed. The natural next step to getting the dog you've always dreamed of having! If you take your dog everywhere with you and want them to behave in public places, under heavy distraction and listen to your direction, then you need this class!

Equipment required: 15-20 foot long line, 6 foot leash, training collar and treats.
Prerequisite: Smart Dogs Basic Class
$205.00 + HST - 6 x one hour sessions.




Smart Dogs Alumni (formerly Advanced)


This class is an awesome opportunity to continue your dogs education, prepare you for competition and still get your dog out in the real world! You will learn competition style obedience (front, finish, around, focused heeling, drop in motion, extended stays, down from a distance, stand, focused heeling between your legs, group recall, stand), tricks and basic agility jumps, weaves and tunnels. If you have taken Basic and Bootcamp Class and would like to be challenged with your dog and show off your dogs new skills, then this is the class for you! This is also the class that from time to time we call on to perform at events! This is a LARGE class, maximum is set at 15 students/dogs. You may attend every class scheduled, or you can come on a less frequent basis, depending on your schedule.

Equipment required: 6 foot leash, training collar and treats.
Prerequisite: Smart Dogs Basic Class & Smart Dogs Bootcamp as well as a desire to
work hard and practice with your dog.
At the current time, this course is invite only.
$10 per 1 Hour Class - twice to three times a month in warm weather, $20 per Class once to twice a month in cold weather


Smart Dogs Introduction to Agility For Fun
A great session for building confidence, having fun with your dog and as an intro to the world of dog agility. Basic agility equipment introduced, handling skills, targeting and brushing up on the basics. Keep your dog's mind and body active - a tired dog is a happy, well behaved dog.
Must have basic obedience skills (sit, down, stay and come).
For dogs 6 months plus.
We cannot accept aggressive dogs in group agility classes.

$45 + HST - Single 90 minute INTRO session
Prerequisite: Basic knowledge of sit, down, stay and come with no aggression/reactivity issues.


Smart Dogs Agility For Fun Club
This class runs throughout the year and is open to those who have taken our Introduction to Agility For Fun with us. This course will enable you and your dog to practice on the equipment and maintain their training, work their mind and body, and introduce them to new skills and you to new handling.

For Dogs 12 months plus
Prerequisite: Smart Dogs Introduction to Agility For Fun
On going basis - once a month.
$25 + HST per session.




Smart Dogs Scent Class

(coming soon!)
This is a fantastic class to tap into your dogs natural abilities with their strongest sense - their sense of smell. We take the steps to introduce your dog to a scent that they will learn to search out. This process we use can be translated to any object that you like going forward. If you are someone who misplaces keys, wallet, phone, children, why not learn how to get your dog to help you out, since they are so much better at tracking things then we are. This class is not taught for competition, rather for the benefit of your dog and yourself. Utilizing your dog's natural senses has a wonderfully calming effect, is a great energy release and can be used any where at any time. An enormous benefit of this class is keeping your dog's mind active and "thinking" in an easy, convenient way.

For dogs who have had all of their initial puppy shots (approximately 15 weeks and up to any age).
Prerequisite: Dogs should have a very simple understanding of the leash, sit or down, and be driven for food
Equipment required: Scent container (we provide included in price), 6 foot leash, flat collar or harness, food reward (toy reward introduced as well)
We CAN NOT accept overly reactive or aggressive dogs in this class.
$150.00 plus HST, once a week for four weeks


Smart Dogs Kidz and Dogz Class
A cool four session summer course for kiddos to get involved in their pooches training. We work on multiple different skills and tricks, and emphasis is put on the relationship and responsibility of having a dog.

For Dogs 8 months plus and Children 9 years plus
Prerequisite: DOGS MUST have some obedience and MUST NOT be out of control or too large for a child to handle.
Equipment required: Training collar (starmark, prong, martingale, or no-pull harness), 6 foot leash, food reward
We CAN NOT accept aggressive/reactive dogs or dogs with moderate behavioral issues in this class.
$100 + HST, 3 one hour session.




Smart Dogs Rally Obedience Novice/Advanced COMING SOON!!


This is a fantastic class to become familiar with the rules and exercises in the sport of Rally Obedience (we follow the Canadian Association of Rally Obedience guidelines of competition). This class will introduce you to all of the basic and advanced "moves" required for competition, it will introduce you to focused heeling, and duration work. This class will prepare you for competition with the Canadian Association of Rally Obedience.

Equipment required: 6 foot leash, training collar & flat collar and treats.
Prerequisite: Smart Dogs Basic
$140.00 + HST, once a week for 4 weeks.